Ten Second Review
This fifth generation Clio supermini is familiar, yet thoroughly different, returning Renault to a position of real credibility in the small car sector and offering the kind of complete package that could return this model line to its old position as one of Britain's favourites. Tougher segment competition has forced the French brand to up its game, particularly in terms of cabin technology, fit and finish, but we're impressed by the way the company has responded, ticking these boxes while also adding in greater practicality, extra safety, more sophisticated media technology and a sharper look. There's plenty to like here.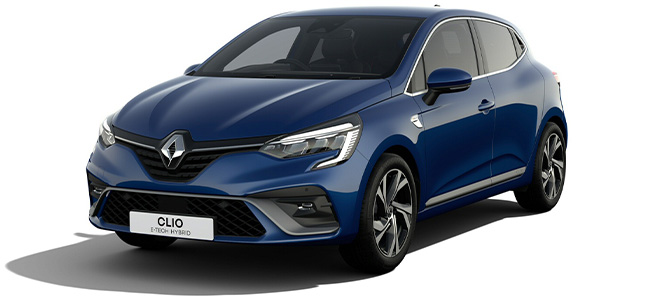 Background
The Renault Clio. It's the definitive expression of this French brand's vast experience in the supermini class, building on the company's reputation for building compact cars that are characterful, fun to drive and technically accomplished - qualities that go back all the way to the famous Renault 4 and 5 models of old. Here's the latest, much improved fifth generation version.
The last couple of decades have been characterised by a lack of investment from Renault in their key models as the company pursued an electrically-powered motoring future the market still isn't quite ready for. That changed with the development of this car. The marque knew it had to get this Clio right. Perhaps it has.
Driving Experience
This MK5 Clio was the first Renault-Nissan Alliance model to use the conglomerate's latest sophisticated CMF-B platform. And the French brand has dramatically slimmed down the engine range you can have bolted to it. Gone are the diesels and the entry-level SCe petrol unit. Now, the only conventional powerplant you can have is Renault's 1.0-litre three cylinder TCe 90 petrol unit - which is the one most customers went for anyway. It only comes with manual transmission. The alternative is the self-charging E-TECH Hybrid 145 auto petrol version of this model, powered by an electrified 145hp petrol engine and two electric motors.
Renault's set out here to try and deliver a driving experience to Clio buyers that's a little different to that served up before. Previous models had something of a comfort focus, but with this fifth generation design, the brand has sought to combine that with a little of the alert feel you'd get in this segment from cars like Ford's Fiesta. It'd be asking a little much for the company to nail this demanding brief at its first proper attempt, but it's got reasonably close. A little of what we might call 'Clio-ness' has been sacrificed in the process - this car no longer cruises over bumps with quite the ease of its predecessor. Most undulations though, are dispatched without fuss and there's a purpose to the way the car turns into bends and a level of body control that certainly wasn't there before. Plus of course in town, as you'd expect, it's manoeuvrable, nippy and easy to park.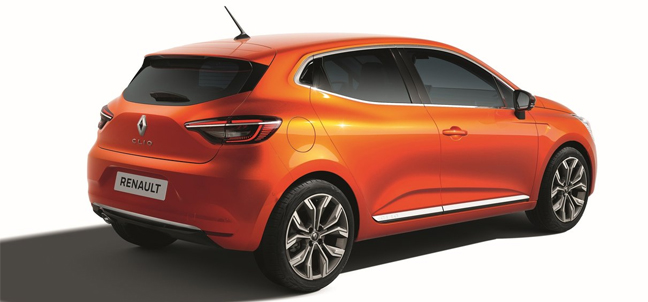 Design and Build
Stylist Laurens van den Acker wanted this MK5 model Clio to be more expressive, while keeping the previous version's sleek profile. The body has been lowered by up to 30mm and big 17-inch wheels give top versions a more dynamic look. At the front, the bonnet incorporates ribs for a sculpted effect. The grille is bigger and the front bumper is more pronounced with a very expressive central air scoop. Full-LED headlights are now standard and the rear lights feature a more distinctive C-Shape signature. In terms of size, this fifth generation Clio is 14mm shorter than before, yet manages to be more spacious inside.
The cabin is of much higher quality than before, with high-end materials and a soft coating on the dashboard, the door panels and the central console surround. The instruments are more driver-focused and there's the largest centre-dash infotainment screen in the segment, with two sizes available - 9.3-inches or (with navigation) 10-inches. There's another screen in the instrument binnacle, measuring between 7 and 10-inches depending on spec, replacing conventional dials. Plus an electric parking brake has been added. The seats on this Clio are much better than what you'd usually find in this segment in terms of comfort and support. They offer a longer seat base and a more enveloping shape. There's a useful gain in boot size, too; this Clio gets a variable-height floor so you can prioritise a low load lip or capacity, but the space on offer ranges from 330-litres up to as much as 391-litres.
Models
There are four trim levels - 'Evolution', 'Techno', 'R.S. Line' and 'E-Tech Engineered'. Standard kit is generous, with even base 'Evolution' trim including a 7-inch TFT Colour Instrument Display and two luggage nets in the boot. 'Techno' has a focus on technology and styling, the exterior enhanced with dark tinted rear windows, chrome detailing on the window surrounds and door panels, plus a shark fin antenna. Inside, the interior is refreshed with grey accents to the dashboard and door panels, as well as dark grey pinstriped seat upholstery.
The R.S. Line completes the revised Clio range, offering customers a dynamic and sporty design that features the latest on-board equipment. Features such as the 9.3-inch EASY LINK infotainment system with satellite navigation and wireless phone charger are fitted as standard, plus there's a 10-inch TFT Colour Instrument Display.
All Clio variants get a standard 9.3-inch multimedia screen. This vertical and subtly curved tablet visually enlarges the dashboard and lends the cabin a more contemporary feel. Turned towards the driver, this screen, with its EASY LINK connected system, comprises all the multimedia, navigation and infotainment features as well as the car's MULTI-SENSE driving settings.
This car gets several striking body colours, including Valencia Orange and Celadon Blue. The Valencia Orange shade offers unprecedented depth and radiance thanks to a specific coloured varnish treatment. In all, this Clio is available in 10 body colours and with three exterior customisation packs (in red, orange and black).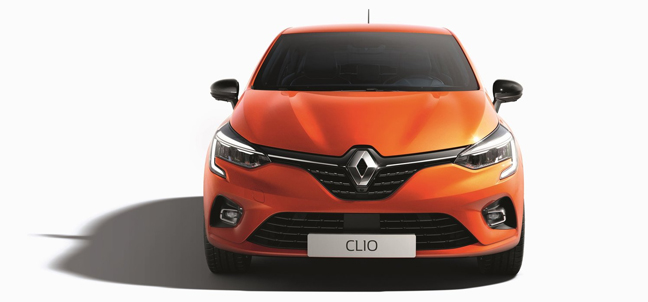 Cost of Ownership
Let's get to the WLTP figures. For the TCe 90 petrol unit, the figures are 54.3mpg and 119g/km in base 'Evolution'-spec. The Clio E-TECH Hybrid 145 manages 64.2mpg on the combined cycle and 96g/km of CO2 in that 'Evolution' trim, plus there's an 'EV' option that gives limited all-electric driving range. Enough on efficiency figures; what about the other costs of running this car - depreciation for example? Industry experts reckon this fifth generation Clio will do slightly better than its predecessors; after 3 Years/36,000 miles, a volume 'Evolution' TCe 90 variant is predicted to be worth 38% of its original value, which is very class-competitive - about the same as a comparable Ford Fiesta.
You can plan ahead for maintenance costs by opting at point of purchase for a pre-paid servicing plan covering you for either three years and 30,000 miles, or four years and 40,000 miles. The four year '4+' warranty deal looks good too, given New Car Road Test | Renault Clio that most rivals restrict you to three year cover. This package also includes roadside assistance for the duration, though bear in mind that the final two years of the policy will be invalidated in the unlikely event that your Clio covers more than 100,000 miles. Depreciation levels will be very similar to those of other mainstream-brand superminis in this segment.
Summary
Renault knows how to do this. The company has been showing the world what a small hatch of this sort should be not only since the Clio first arrived in 1990 but since it virtually invented the supermini segment with the little Renault 5, way back in 1972. Unlike most motoring journalists, the French maker knows what most buyers in this sector really prioritise; practicality, comfort, value, safety and low running costs. Attributes that have made the Clio model line Europe's small car favourite.
Which leaves us with what? A very accomplished all-rounder certainly - and a car that merits a significant place on any serious supermini buyer's shortlist. In driving it, we were reminded of something a recently disgraced former Renault Chief Executive once said: "there's nothing wrong with any car company that good cars won't fix". This is undoubtedly one of those. Good enough to properly reawaken British interest in the Clio? Possibly not. But you've watched this film. You know better. And, if you're looking for a supermini, we think you should give this one a chance. It might surprise you.