Ten Second Review
Looking for a compact family-sized full-electric model with zero emissions and the rapid responses characteristic of today's EVs? For some time now, the most affordable option you could consider has been MG's ZS EV, but the original version was let down by its modest drive range. That's been sorted with the smarter, revised variant, which remains sensibly priced and well equipped. If you're buying on a budget, you might rather like it.
Background
The world is calling for higher levels of electrified vehicle technology (which to some extent we've now got) and more affordable EV models (which we're still waiting for). Enter MG - and specifically, this improved ZS EV model, priced to undercut similarly-sized rivals by a significant amount.
There's a chance you might already be familiar with the ZS. This decently spacious compact SUV was launched in 2018 with 1.0-litre or 1.5-litre petrol power. But MG were also keen to tell us at the time that this model's platform had been designed with full electrification very much in mind. Hence the introduction of the MG ZS EV in 2019 with a 44kWh battery, but that car could only go 163 miles between charges. MG knew it had to do better - and has, with this improved ZS EV longer range model. More fully electric MG models will of course follow, but how good is this one? Let's find out.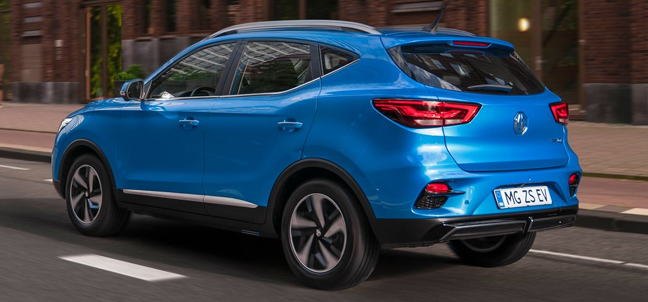 Driving Experience
As with most EVs, this one should feel sprightly away from rest, courtesy of the fact that all its drive torque is generated immediately from the get-go. The ZS EV is powered by a water-cooled lithium-ion battery which offers a vastly longer driving range than this model's original, rather feeble, 44kWh battery, which only took the car 163 miles. The entry point to the line-up is these days marked by a 51kWh battery, which can take you up to 198 miles. But MG expects that most will want its 72kWh Long Range battery, which can take this car up to 273 miles - and that's what we tried.
At the wheel, instead of the usual gear stick, you select drive from a Rotary Gear Selector, which allows you to switch between three settings for the single-speed auto transmission - Drive, Neutral and Reverse. In front of this is a further control that allows you to switch between three levels of brake energy recovery (or turn the recovery system off). Level one will implement a small amount of regeneration, with much of the braking still dependent on the vehicle's brakes. Level three offers the greatest regenerative benefit, offering near one-pedal driving with minimal need for the brakes, improving the lifespan of the parts, increasing efficiency and reducing ownership costs.
Design and Build
Some would number this car amongst the more stylish family sector EV models you can buy. At just over 4.3m in length, it's an SUV sized somewhere between the smaller Crossover class (think Renault Captur/Nissan Juke) and the larger family-sized Crossover segment (think Nissan Qashqai/Kia Sportage). In this revised form, the ZS gets a smarter electric-only front end, with a stamped-effect grille to improve aerodynamics and a revised side-opening charging port. The bolder face is set off by LED headlights and distinctive daytime running lights. It also gets a redesigned rear bumper and smarter wheels.
Without exception, all of the EV models you can currently buy on the UK market for under £30,000 are considerably smaller than this MG, both inside and out. Careful packaging has positioned the battery pack beneath the car, so that it doesn't impinge on either passenger or luggage space. Hence the way that it can handle bikes, pushchairs, luggage and bulky loads with no trouble at all. There's 448-litres of boot capacity, around 60-litres more than you'd get from most normal compact SUVs. Open the cabin doors and you're greeted with a spacious interior, though one with material quality not quite the equal of what you'd find from more established brands. Still, MG has tried hard, with faux-leather upholstery and a range of 3D shapes, metallic and chrome finishes. There's a decently large 10.1-inch centre-dash infotainment display too, with plenty of features, over-the-air updates and built-in navigation that's quick to react.
Market and Model
There are three trim levels, base 'SE', 'Trophy' and 'Trophy Connect', with asking prices starting at around £27,500 for the Standard range model and around £29,500 for the Long range version - both figures based on entry 'SE'-spec, once the government's £1,500 Plug-in car Grant has been deducted. That's way above what MG was asking for the original version of this EV model, but the government grant is less these days, so that's one reason for that. Plus the asking figure is still very good value by EV standards.
Equipment levels are strong, with all variants getting the latest version of MG's infotainment system, with a 10.1-inch colour touchscreen featuring satellite navigation, Android Auto, Apple CarPlay, Bluetooth phone connectivity with audio streaming and DAB radio. There's also a state-of-the-art MG iSMART connectivity set-up, which offers a connection via a smartphone app, through which various car, climate, security and charging functions can be controlled remotely. Smart 17-inch alloy wheels are standard - and your dealer will want to show you the brand's glass sliding 'Sky Roof'.
If you can progress up from base 'SE' trim to either the mid-range 'Trophy' or the top 'Trophy Connect-spec we have here, you get you leatherette upholstery and a large panoramic 'Sky Roof' sunroof, plus a 360-degree parking camera, a wireless phone charger and heated front seats. Safety provision has taken a big step forward with the introduction of this revised model, thanks to the standard inclusion of the 'MG Pilot' camera safety package.
Cost of Ownership
Earlier we mentioned this car's 273 mile WLTP-rated driving range in 72kWh Long Range form (23 miles more than the MG5 EV). That's a combined figure. MG quotes 207 miles for motorways, 305 miles for rural roads, 370 miles for towns and cities and 387 miles for slow-moving traffic. As we mentioned in our 'Driving' section, the base version with the smaller 51kWh battery has a combined range figure of up to 198 miles.
Charging a ZS EV is straightforward thanks to its combined CCS and Type 2 port, mounted within the front grille for easy access from either side of the car. Charging status is now readily viewed on the four stage indicator LEDs inside the charging port. The combination Type 2 and CCS charger provides up to 7kW fast charging using the on-board AC charger, or up to 76kW DC rapid charging (depending on climatic conditions). This means the Long Range 72 kWh battery can be charged from 0-100% in as little as 42 minutes on a 100kW rapid charger (if you can find one).
At home, the car can recharge itself using a standard 7KW wallbox in ten and a half hours; quite a bit more than the six hour time required for the previous 44kWh model. But overnight charging's still just about possible. In emergencies, the car can also be charged via a standard 3-pin plug. The battery pack is comprised of 18 cells and weighs just 280kg, providing competitive performance without generating any emissions. Managed by MG's Intelligent Battery Temperature Control system, the battery pack is insulated from external temperature variations, delivering the optimum power and range whatever the weather. As with all MG models, you also get one of the longest fully transferable warranties in its class, a 7 year/80,000-mile package being standard across all variants. Rivals such as SsangYong, Hyundai and Toyota only provide 5 years.

Summary
If you're wondering just how affordable a family-sized full-EV model with decent driving range can be, MG has delivered the answer here in the form of this improved ZS EV, which remains a typically tightly-priced package. Particularly in this 72kWh Long range form, this car might suit you down to the ground, especially if your motoring is based around short urban runs. It's well equipped, spacious and comes with a notably long 7 year transferrable warranty to complement a price that looks like a misprint.
Is it the best car in the sector? No. Is it the best really affordable model in the class? Absolutely yes. MG has just taken another big step forward.